SHORT TAKE:
The sequel to Pacific Rim – not intellectually challenging but lots of fun.
WHO SHOULD GO:
Anybody old enough to watch a Godzilla movie and not get nightmares.
LONG TAKE:
Some meals are meant to be savored – a great steak, shrimp bisque followed by a chocolate mousse.
Some meals are simple and filling but more memorable for the people you had them with than the food itself.
Some meals, like breakfast right out of the Easter Bunny basket, are meant to be completely just for fun. And then there are those days when, using a G rated version of Joel Goodson's catch phrase from Risky Business:
"Sometimes you just have to say what the heck," and
you serve yourself a big helping of whipped cream and toppings.
Movies are like that too. And fittingly there is even a scene where the lead character in Pacific Rim: Uprising serves himself a huge Bowl of Reddi-whip and sprinkles while talking to his friend.
SPOILERS BUT I WILL TRY TO KEEP THEM TO A MINIMUM
The premise to Pacific Rim: Uprising is the sequel to Pacific Rim. Pacific Rim is the story of the titanic battle between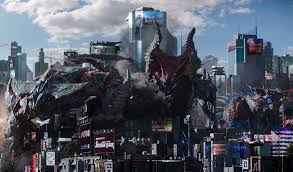 Godzilla-sized monsters who come out of a crack in the ocean's floor from another dimension to wreck havoc on the Earth (mostly Tokyo) and the
Jaegers – Godzilla-sized robots which humans built to combat them. Never mind the illogic or the physics, it's an excuse to watch grown men like writer/director Steven DeKnight spend millions of dollars recreating "lifesized" versions of the sand box action figure matchups from when they were kids.
Pacific Rim: Uprising picks up 10 years after the Kaiju have been defeated — or have they? The first Pacific Rim was quite straight forward – bad monsters come out of ocean – must beat them up until they go away. This one has a plot which is a bit more complicated and has a few more twists and turns than you might expect. Not so tricky though that you can't still make sense of it even if you need a designated driver to get you home, but it did have a few unexpected surprises.
John Boyega (most notably Finn from the recent Star Wars installments) plays Jake Pentacost, son of the late
Spencer Pentecost (Idris Elba) from the first movie. Jake is introduced as not quite the hero his father was, but who must grow into those shoes quickly.
Nate (Scott Eastwood who has been paying his dues with small parts in Fate of the Furious, Suicide Squad and Texas Chain Saw Massacre 3D) plays his former best friend and comrade in arms.
Cailee Spaeny, a newcomer, plays Amara, a street kid and Jaegers/technical prodigy who is drafted into the Jaeger cadets.
Burn Gorman (formerly of the Dr. Who spin off Torchwood) and Charlie Day (mostly from goofy comedies and voice work in cartoons and video games) return as the Frick and Frack scientists Gottlieb and Geiszler whose creativity helped defeat the Kaiju last turn.
Much like the Thor franchise, the Pacific Rim series wisely incorporates bits of humor into their action packed sequences which help underscore the film makers' acceptance of the fact that what they are making is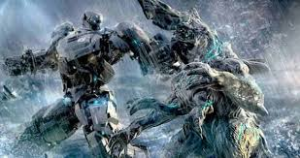 Godzilla meets Rock 'Em Sock 'Em Robots and have fun with it.
And for those of us old enough to remember when Rock 'Em Sock 'Em Robots first came out, watch for Clint Eastwood's son Scott – playing the above mentioned Nate.
Not remembering he was in the cast, I thought the actor looked SO familiar, and then when I realized who he was it was like when you finally "see" the picture buried in the pixels – you cannot UNsee it.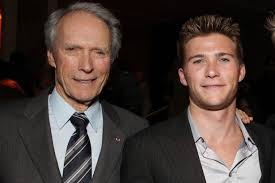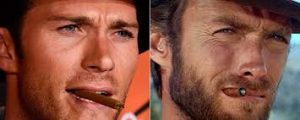 His Dad's voice, mannerisms, profile and body language will jump out at you from the screen. Not that that is a bad thing but it is an amusing anachronism seeing a close variation of the inveterate Western and Dirty Harry hero I grew up with in a goofy sci fi- action adventure.
This is not the Venus de Milo but a fireworks display at the start of a Carnival and there's nothing wrong with that.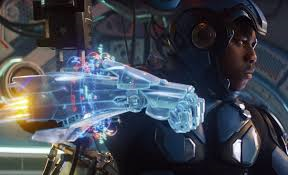 Pacific Rim is mostly good clean fun — well the critters all make quite a mess but there's NO hankie pankie, (who has TIME when you're dodging 50 story Kaiju) and a little profanity. Younger audiences might get scared – I'm talking nightmare scared – by the giant monsters screaming and tearing up buildings. But any kid old enough to understand it is all make believe should have a great time.
It's also nice to watch a global disaster type movie and not be burdened under the weight of the human-created-climate-change-global-warming believer cultists' propaganda digs that so often end up littering otherwise enjoyable flicks.
SPOILER
ONE PROVISO to that is there IS a scene where a little girl's family is swept away as they are trying to reunite with her right in front of her eyes. So be aware if that might upset even an older child.
If you liked Pacific Rim, you'll love Pacific Rim: Uprising as long as you're happy with Cool Whip and don't expect a rib eye steak.
This Post Has Been Viewed 106 Times