SHORT TAKE:
Cute brainless movie about anthropomorphized dogs ruined by a poorly considered scene which, whether intentional or not, lowers a child's guard against unwanted "touching".
WHO SHOULD GO:
Sadly, no one in the target demographic audience of children UNLESS one scene is changed and/or removed along with any references to it.
LONG TAKE:
When the kids were underaged we were incredibly careful, from deciding on where to store the cleaning products to the books they read to the unpopular decision against them going on sleep overs. We never parked them in front of a TV in a store and walked away thinking they would be OK or let them play hide-and-seek in public. We never let them so much as walk down the block without a responsible adult or semi-adult accompaniment. We met the parents supervising parties they were attending and often stayed as chaperones. We knew what music they listened to, who their friends were and what movies they watched. (At least we tried – kids are sneaky creatures.) One of my constant refrains to other parents when explaining why we were so very careful when we were raising our children was: "I've never known anyone to be sorry for being too careful. But I've know a LOT of people who were sorry for not being careful enough." And I've experienced more than one moment where I was grateful for subscribing to this mantra.
I was originally going to do a review of the movie Show Dogs in a positive light – kid movie about dogs, some fart humor, innocent brainless romp. What's not to like? I even gave it a "silly popcorn movie" thumbs up on the radio call I make every week to KBYS.
Then my daughter brought my attention to a blog by a mom who was disturbed by one particular scene in the movie. During the AKC dog shows it is routine for the animal to have his genitals checked to be sure both testicles are descended.
It is a requirement for winning and was used as a plot device for this loner canine police dog,
Max, (voiced by Ludacris – whose proper name is Christopher Brian Bridges), to demonstrate self-control. At the time I thought it a goofy plot device. But this mom's blog, which expressed some serious concern about this episode encouraging children to succumb to genital touching, got me considering the issue. As anyone who has read any of my blogs will know, I have both a short fuse and a short temper when it comes to protecting children from all manner of inappropriate scenes, themes, behavior, language, sexuality, etc. But even I didn't catch this one.
To be the Devil's Advocate here for just a moment my initial analysis of the concerned mom's legitimate thoughtfulness was that she was overreacting. My reasoning was thus: it is an adult male dog, undergoing an accepted physical exam. This is not an exam made up for the gratuitous sake of a joke (although it is milked for such) but is a real part of AKC review in dog shows, especially ones at this level.
Next, my reasoning said, if there was any subservient/child aspect to this, the handler/human partner,
Frank (Will Arnett) had the fiduciary duty over the animal, anthropomorphized or not. The human partner Frank was the responsble party for Max and had to account for Max' behavior when he bit someone, and his whereabouts when he went missing briefly. And Frank was not only there, attending closely during the examination but was watching very very carefully as Frank was afraid Max would bite the judge and blow the contest, their cover and their best opportunity to solve the case. Frank would have seen the slightest inappropriate attention, or abuse on the part of the judicial examiner, who had every right to be doing what he was doing. I thought, at the time, it was much more akin to a parent overseeing the appropriate examination of a child by a doctor.
But then, in a post to the article about this alert mama, someone else mentioned that children would RELATE to and AS this dog. That, as the main character in the movie, this is the one they would most closely associate with and emulate. That's when the scene did indeed raise my red flag.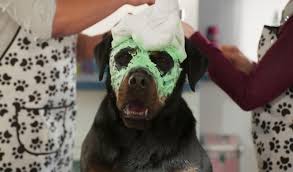 Adult dog or not, children will relate to this talking dog – even though the humans in the movie do not understand the dog barks, we in the audience do. Max is the main character and written to be the critter with whom we most closely empathize, and see as the surrogate and gateway into this movie.
Further, thinking back to my six children's pediatric examinations, I can not recall any time when a routine exam necessitated a palpitation of their private parts.
So, in retrospect, I think the concerned mom is right.
I will give the writers the benefit of the doubt and say I believe it was simply an exercise of poor judgement and not maliciously intended. The rest of the movie was child friendly and without any agenda.
It's a mismatched cop buddy movie ala Lethal Weapon with a dog and human as the frenemies who must learn to get along and respect each other. Both dog and human had cute female love interests without sexual reference or insinuation. The act of checking a dog's genitalia fit the plot, was somewhat funny and really is something that occurs in dog shows. On its surface, Max' required restraint during the inspection scene was no worse than a badly timed breaking of wind at a wedding or a bit of crude humor during a toast by an inebriated groomsman.
Unfortunately, the potential bad effects of desensitizing children to inappropriate and unwanted touching are far more reaching than a tasteless joke or badly timed flattulence.
If the filmmakers are smart they will refilm this one scene with a more child friendly concept, such as having Max exercise this same self control when having his teeth examined during the course of the contest. (And yes, my children did occasionally try to bite our eternally patient pediatric dentist so this idea is perfectly relevant.) Precedent for going back to reshoot was set with All the Money in the World when all the scenes shot with the now disgraced predator Kevin Spacey as Getty were replaced with the legendary Christopher Plummer taking over the role. And this scene in Show Dogs is only one close up scene which could even be changed with some clever CGI and editing and a few mentions in others parts of the movie that could be easily revised or voiced over.
Meanwhile, I must bow to the wisdom of this attentive blogger mom and agree with her that, as currently shot with this one scene, Show Dogs, sadly, is NOT appropriate for their young child target demographic audience.
This Post Has Been Viewed 112 Times