I was watching  Cinema Sins on Mission Impossible: Fallout the other day and a thought hit me. (No injury was sustained from said impact though, despite the lack of a stunt double for me. Thanks for asking.)
There is much deserved notoriety in
Tom Cruise's penchant for doing his own stunts in many of his movies –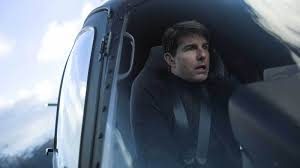 his spinning helicopter ride,
careening his ubiquitous motorcycle against traffic around the Arc de Triomphe,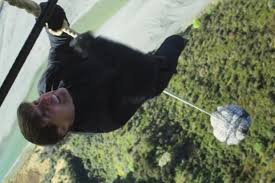 his snapped ankle acquired – on camera – jumping from one high rise to the next – all JUST in his most recent M.I. outing.
These events, while generating a LOT of publicity, are not the first in his career. Cruise is notable for doing his own stunt work as much as he can get away with.  And while he does – and it IS noteworthy – it is neither unique nor new. He follows in the illustrious and dangerous footsteps of others who stood in equally brilliant limelight in previous generations doing, arguably, even more foolish tricks.
I am immediately brought to mind of
Steve McQueen who, like Cruise, LOVED his motorcycles and performed almost all of his own riding stunts in The Great Escape. He tried to perform his own driving in the famous chase scene from Bullitt, but one spin-out, which almost took a cameraman with it, convinced Mr. McQueen to let the professional driver do the yeoman's part of the work.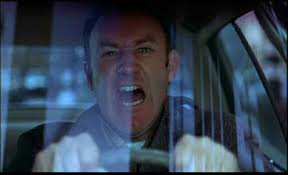 Gene Hackman did some of his own driving in the famous chase scene from The French Connection, which was so dangerous that the director Friedkin, himself, manned the camera stationed in the backseat because the other cameramen were married with children and he was not. (Though for the MOST dangerous shots, pro-stunt man Bill Hickman did the driving.)
And not all actor-stunt events end so happily.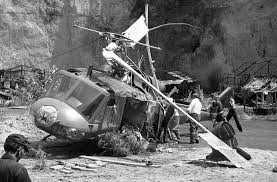 Vic Morrow and two children died when an effects explosion caused the tail-rotor on a low-hovering helicopter to crash on top of them.
And the insanity did not begin there.
Going back a bit further,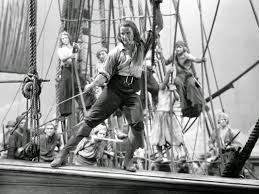 Errol Flynn did most of HIS own stunts and sword fighting, most famously in Against All Flags, Captain Blood and Robin Hood.
Basil Rathbone, playing the evil Guy of Gisbourne in that 1938 version of the Merry Men of Sherwood Forest was, purportedly, terrified of Flynn, because he was SURE Flynn was  REALLY going to skewer him, so into the role the master swashbuckler would get.
1923's silent comedy Safety Last starring Harold Lloyd features an iconic shot of Lloyd hanging precariously from a bending clock arm high above street level. Though precautions were taken, obviously, for the star's safety, as proven in the tragic case of Mr. Morrow, bad things can happen.
1922's Robin Hood was the biggest hit in the career of Douglas Fairbanks.
He too, was famous for insisting on doing his own stunts and
Robin Hood was no exception.
Of those I have mentioned, only Morrow perished attempting a stunt. Steve McQueen died during surgery for cancer, and both Flynn and Fairbanks died of heart attacks; all tragically in their 50's. Harold Lloyd lived to be 78, but eventually succumbed to cancer. Hackman, thankfully, has made it to the ripe old age of 89 and is still chugging along. Cruise is, to date,  only 56.
Don't get me wrong. I LOVE the fact Cruise jumps – literally – into the fray. Though, honestly, if he were my son or brother I would NOT be nearly as amused. I'm not critiquing, just observing he is not the first. Cruise is but the most recent in a long line of men who have put their bodies where their money was; movie stars refusing the assist of stunt doubles and graying the hair of many a director who, I'm quite certain, found God, even if only for a moment, while watching their star defy death for the sake of a movie's authenticity.
Cruise has been quite fortunate that he has, so far, walked – or limped – away from all of his grandstanding. And I pray for his sake, the sake of his family and the movie going public in general, who have enjoyed his movies for decades, that his luck continues to hold out.