I like to share movies that likely no one in the solar system other than me remembers. A New Leaf is one of those rarified films which are hard to get but very much worth the effort. Another is Saving Grace with Tom Conti.
There are a lot of movies with the name of Saving Grace: from a 17 minute English short about two men romancing a woman named Grace to a kidnap/horror movie about a hospital janitor obsessed with a junkie. I have seen neither of these films and don't plan to.
No, the movie to which I am now referring is the 1986 remarkably charming dramedy starring the brilliant but little known Tom Conti. (Though you MIGHT remember him as Christian Bale's improvisate chiropractor in The Dark Knight Rises.) Conti cut his teeth and has mostly sustained his career in the theater but made a permanent mark on film in the '80's co-starring with none other than David Bowie in the unusual war film Merry Christmas, Mr. Lawrence as well as the very dark and odd ball love story Reuben, Reuben.  Son of a Catholic Italian family, endearingly he has been married only once and to the same woman, Kara Wilson,  since 1967.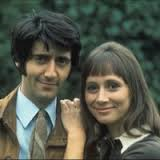 While an actor's personal life often has nothing to do with whom or what they represent when they work, I find his background relevant in this case as he portrays the Pope. Not any real life pope in particular but a fictional one, so in a way his performance could be seen to represent all popes.
I love this movie. Conti plays a very young priest who is elected, to his own surprise and some dismay, to the papacy.
He becomes Pope Leo XIV. However, while dressed appropriately for engaging in the past time that helps alleviate the stresses of his office, gardening, Pope Leo accidentally manages to get himself locked out of the Vatican and away from the protectively intrusive eyes of his bodyguards, assistants, and fellow clergy. He then decides to do a Henry V.
If you remember from any Shakespeare class, Henry V is about the English King who invades France. The night of the fateful battle he dons the clothes of a common soldier and walks about the camp to assess the level of enthusiasm and patriotic temperature of his troops.
Pope Leo, remembering the pleas of a little girl entreating on behalf of her small  village during one of his Papal audiences, decides to visit the little girl's village and provide what assistance he can as a good old parish priest.
It is in this little village that he falls in love again with the reasons he became a priest. Ergo, why I titled this post as a love story. It is a beautiful love story between a man and his faith, a priest and his congregation, and ultimately a Pope and his worldwide flock. By reaffirming the first he is able to renew the latter and the entire world is made a better place by Leo's interaction with this small seemingly unimportant unassuming village.
The subsequent story is gentle, funny and heart breaking as Leo reconnects with some of the most humble of his flock, while his colleagues at the Vatican desperately search for him and simultaneously divert attention to the fact the Pope is  ….. well… missing!!
This is a very one-off movie, unique in its perspective on one man's search for renewed spiritual inspiration. It's also a little hard to find. Not as difficult as A New Leaf, as you can buy Saving Grace on DVD through Amazon.com. But be careful you are choosing the correct one "Saving Grace", as I warned above there are a number of movies with the same name. Or you can watch it in pieces on Youtube.com.
Faithful to Catholic teaching, highly respectful of the church and the priesthood, this film is appropriate for all ages. HOWEVER, as always, Mr. Phelps, should you choose to accept this mission…I mean film, you should watch it yourself first before showing it to any members of your family you think vulnerable or sensitive.
Photo Credits in order: Amazon.com, elprimodemartyfeldman.wordpress.com, photobucket.com, zimbio.com, rateyourmusic.com, playingtheworldgame.wordpress.com, youtube.com, artistdirect.com, youtube.com, youtube.com, youtube.com, youtube.com, youtube.com, ravepad.com, martazoffoli.it