SHORT TAKE:
Keeping in mind that I LOVE cookies, Honest Thief is a cookie cutter Liam Neeson action adventure. So, while it's not Shakespeare, a fun time was still had by all.
WHO SHOULD GO:
Mid teens and up for language and some TV cop show level violence. But no sex or outright blasphemy, (though God's name is used in vain twice it is not as a profanity), which, in today's culture puts this film above a lot of other offerings.
LONG TAKE: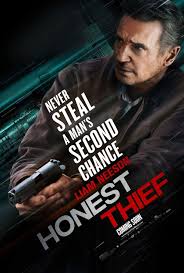 Before we get started – is it me or do the Neeson action adventure posters have a theme going – streaking lights at odd angles with Neeson torso and a gun? No? OK.
SPOILERS
On Calvary there were two thieves – one on either side of the crucified Christ. One was repentant, received forgiveness from Jesus and the promise that he would be with Our Lord that very day in Paradise. I've always been especially touched by this moving scene and wondered if the repentant thief, of all people, was the first soul to enter Heaven after Jesus opened the Gates for the first time since Adam and Eve's Fall from Grace. The Bible does say that there is more rejoicing in Heaven over a single soul who has mended his ways than over 100 who were not in need of such contrition.
One of the aspects of this story that warms my heart is the fact the good thief did not ask for any such promises. He simply admitted his guilt, accepted his punishment and merely asked to be remembered. In return he received far more than he had expected.
Such is the case for Liam Neeson's Tom, a bank thief so successful and clever, he has achieved a certain begrudging respect and legend amongst the police who seek him. He is properly, a thief, not a robber, for he enters and departs the bank, seemingly like magic, in secret, and has never physically harmed anyone.
Tom, by chance, meets and falls in love with Annie (Kate Walsh) who is led to believe he is a bank security analyst – which is "kind of" true? LOL Wanting to spend his life with her with a clean slate, he plans to admit his guilt to the proper authorities and to Kate, return all the money, accept his punishment and hope for the best from his lady love, expecting nothing more than to be able to tell her he has repented. Given his non-violent criminal record and the fact he is able to return all of the money, he reasonably plans to be able to cut a deal with the police. Problem is he can't get anyone to believe he is the semi-legendary mystery pilferer of millions.
A second string team with few scruples and even fewer brain cells Agents Nivens and Hall (Jai Courtney and Anthony Ramos) are sent out and Tom's plans become…complicated.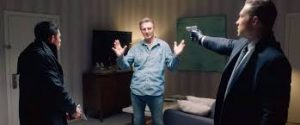 In other hands this could have turned into a comedy (on purpose or by accident) and there were moments when I thought it might stand on that knife edge. But this is a straight up action adventure thriller and works on all points as such, though it does retain a certain wry Neeson humor, lightening moments as a bit of creamer does strong coffee.
Liam Neeson, OBE (Order of the British Empire) used to be best known for classy bio pics of real and fictitious characters such as
Les Miserables (the prose version),
Schindler's List,
Rob Roy,
Michael Collins and
The Mission. The last couple of decades he has made a name for himself as an action hero in edge-of-your-seat adrenaline rushes like
The Grey, the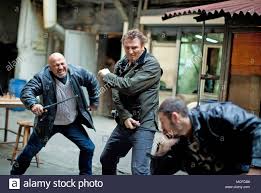 Taken series, Non-Stop and
Run All Night.
Director and co-writer, Mark Williams, makes sure Honest Thief continues in that latter vein. Fast spaced, with Neeson comfortable in his likeable laid back but quietly strong character, he has nice chemistry with Walsh.
Courtney and Ramos are suitably menacing bad cops, though I wondered at their stupidity given they thought they could get away with this kind of blatant embezzlement and a murder of one of their own, when they work for the very people who ferret such out.
Jeffrey Donovan is the clean cop trying to get at the truth with his partner Sam Baker, played by
Robert Patrick.
As a piece of irrelevant trivia, both Jai Courtney and Patrick were in the Terminator series, albeit with their roles reversed –
Patrick was our first glimpse at the terrifying shape shifting Terminator in Terminator 2: Judgment Day and
Courtney rebooted Kyle Reese in the much maligned Terminator: Genisys.
Mark Isham's soundtrack favors sequences featuring a long suspenseful note, usually strings, overlayed with a melancholy tune,
breaking forth with startling and focused aggression during action scenes, reflecting Tom's naturally calm and thoughtful personality, which you would be well advised not to test. Isham has worked on an impressively ecclectic list of movies – from the whimsical Nell (in which Neeson also starred), to the sci fi Next, the Stephen King horror The Mist, the reboot musical Fame, the Jackie Robinson bio pic 42 with the late Chad Boseman, the action adventure about an autistic hitman in The Accountant, the charming family film A Dog's Journey and the ridiculous Bill & Ted Face the Music.
The cinematography isn't especially inventive but more than adequate for the needs of this fast paced action thriller.
Though Neeson claimed 2019's Cold Pursuit was his last action adventure, he has not only successfully continued his smart tough guy roles with Honest Thief but has signed on to film yet another action flick – about a man stuck, with his two children, in a car wired with an explosive which will detonate if he does not obey his "captor".
Neeson is a fine classic actor, who seems to have created a successful  niche for himself in the popcorn genre where the good guy can drive fast backwards in traffic, while successfully shooting at the bad guys and avoid harming any bystanders. Good for him. Personally there is a place for good old reliable formula movies. Sometimes it's nice to just sit back with a bag of M&Ms and enjoy a movie where the righteous (or at least repentant)  man is going to win.