SHORT TAKE:
Death Wish – style movie with a more sophisticated philosophy and more intelligent presentation than most.
WHO SHOULD GO:
Adults only. Little sexuality but a lot of harsh language and extreme amounts of violence.
AND IF YOU LIKE THESE REVIEWS PLEASE SUBSCRIBE! THEN YOU'LL GET EVERY NEW REVIEW SENT STRAIGHT TO YOUR E-MAIL!!
GO TO THE BOTTOM OF THE LEFT HAND SIDE AND TYPE YOUR E-MAIL IN – IT (SHOULD BE) THAT EASY. ANY PROBLEMS PLEASE SEND ME A COMMENT AND I'LL DO MY BEST TO RESOLVE YOUR ISSUE.
LONG TAKE:
One of the rules of good scriptwriting is SHOW DON'T TELL and I think Equalizer 2 did a (excuse the pun) bang up good job on this point.
I've gotten rather fond of Jeremy Scott's eviscerative observations on Cinema Sins. Although replete with profanity and spiced with the occasionally mildly raunchy comment, his analysis of movies, and disclosure of poorly written, clichéd weaknesses and foibles are not only usually very funny but spot on. When writing screen and stage plays, I now pointedly try to avoid the fallback easy positions like: heavy handed exposition, predictable setups, and stereotype characters, with a small voice in the back of my head optimistically warning that if ever this is produced, you don't want to hear that bell count out ill-advised boiler plate tropes.
And while watching movies, I find myself predicting what Jeremy will catch. Citing "Narration" as the self-explanatory critique and reason for the "sin," one of his pet peeves is excessive expositing. In the beginning of even blockbuster or well respected movies, such as Black Panther or Lord of the Rings, a chronicler will spout a long garrulous anecdote, covering decades or centuries worth of background.
That does not happen in Equalizer 2.
SPOILERS BUT ONLY FOR PEOPLE WHO HAVE NOT SEEN THE TRAILER
The premise, building upon the original, is that an ex-CIA operative, Robert McCall, now thought dead, lives a quiet life as a Lyft (read Uber) driver, doing good deeds where he can.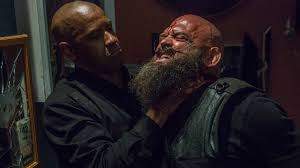 The main storyline of Equalizer 2 follows McCall when, about a half hour into the movie, his friend is brutally murdered.
McCall announces, is expected to, and eventually does, take violent retribution against the perpetrators. But I found the subplots, and the way the narrative is handled, far more interesting.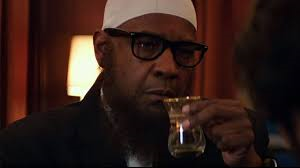 For example, the movie starts, (and not properly a spoiler as it is in the trailer) with a Muslim-costumed Denzel Washington confronting Turkish thugs on a train. Only later, as he goes about his normal routine back in Chicago do we OBSERVE how he knew of a problem and what it would take to fix it. The set up and solution were very quietly and subtly handled. And this small subplot did not even directly relate to the main action, but only served to establish McCall's abilities and personality.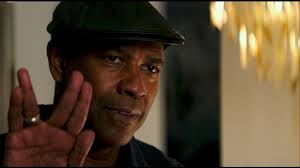 The most compelling part of the screenplay was how McCall exercises that platitude of doing random acts of kindness using the gifts we have. For us ordinary mortals, it might be holding someone's door open or even paying for the coffee of the stranger in line behind you.
For McCall it's beating the tar out of dangerous, abusive men then making them call the cops on themselves afterwards. When asked why he would take on the job of cleaning spray paint graffiti off of a wall when anyone else could do it, he responds that, although anyone else COULD, no one else DOES, so he does. This is the mantra from which he lives and a motto which raises the bar on what could otherwise have been just another Death Wish vigilante violence porn clone. While I'm not advocating vigilantism, often the mentality is a "kill them all and let God sort them out" philosophy.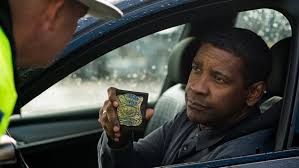 It's refreshing to see this hero, in this genre, genuinely attempt to mete out justice, even often allowing the bad guys an opportunity to "do the right thing" on their own first.
Another of McCall's "projects" is a neighborhood kid who shows some promise as an artist, but is tempted by the quick money and allure of drug running. When asked by the boy, "Why me?" as in: why would you care or why risk your safety for me or do this for me, McCall answers simply, "Why NOT you?"
I was reminded of the parable of the Starfish. Traditionally attributed to an inspiration from the St. Augustine philosophy of doing what you can for those whom God puts in your path, the short tale is of an adult coming upon a child throwing starfish into the ocean. When asked what the child thinks he will accomplish, the child responds that the tide is going out and those left on shore will die. Surveying the thousands of starfish which littered the shore, the adult cautioned the child that he would make little difference given the overwhelming job facing him. The child responded with a smile as he threw another starfish into the ocean: "But I made a BIG difference to this one."
So go see Equalizer 2, not for the overused, familiar vengeance fueled chaos, or even for the nicely handled "show don't tell" exposition. Go to watch Washington's McCall use his singular gifts to save what starfish he can.
NOTE: As I was out of town for the writing of this one I was limited in the pictures I could add but will be updating, God willing, upon my return.