SHORT TAKE:
Adorable, funny, family friendly, typical sports outing about an underdog cavemen team playing soccer against a more sophisticated "Bronze Age" team to win their valley back, all brought to us by Nick Park and friends, the creators of SHAUN THE SHEEP!!!
WHO SHOULD SEE IT:
If you like
Wallace and Gromit or
Shaun the Sheep or
Chicken Run or
The Wrong Trousers or…. oh EVERYBODY!!!
AND IF YOU LIKE THESE REVIEWS PLEASE SUBSCRIBE! THEN YOU'LL GET EVERY NEW REVIEW SENT STRAIGHT TO YOUR E-MAIL!!
GO TO THE BOTTOM OF THE LEFT HAND SIDE AND TYPE YOUR E-MAIL IN – IT (SHOULD BE) THAT EASY. ANY PROBLEMS PLEASE SEND ME A COMMENT AND I'LL DO MY BEST TO RESOLVE YOUR ISSUE.
LONG TAKE:
What do the fantasy franchises: Harry Potter, The Avengers, Game of Thrones and……. Wallace and Gromit have in common? Wallace and Gromit????!!!!
The answer is: Early Man.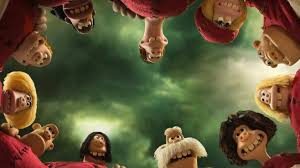 Early Man is an adorable plasticine animation feature length movie brought to you by the same instigators, led by
Nick Park, who created The Wrong Trousers, and
The Curse of the Were-Rabbit.
With tongue firmly planted in cheek, the story is spun about the lives of a group of
Cavemen who were forced into the lone habitable spot by a meteor which devastated the rest of the known Earth.
Their valley is lush and green, where all about them is the
Badlands: with dangerous mutant animals, harsh rocky ground, and
volcanos. The Badlands looks a bit like I'd imagine the
Wembley Stadium parking lot after an EFL Championship game.
But there are a couple of silver linings. Not only did the meteor strike carve out at least this one fertile area but the meteor, itself, also gave them the template for history's first football.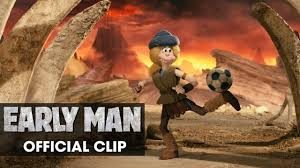 By that, for those of you reading in America,
I mean soccer. But the Brits call it football, so there it is.
Fast forward a couple "eras" and
Dug (voiced by Eddie Redmayne – Newt Scamander from the "Harry Potter" world of Fantastic Beasts) and the tribe of which he is a member, happily lives on fruits, nuts and the odd rabbit
(which said presented rabbit is about as catchable as Bugs Bunny so, in effect, they are de facto vegetarians).
But Dug is ambitious – he wants to hunt mammoths………!
But that's not what the story is about. Their idyll is interrupted when
Lord Nooth (voiced by The Avengers' Tom Hiddleson)
sporting an impenetrable guise of Italian accent,
comes upon the scene with equipment made of the bronze which he has mined from his nearby kingdom.
Dug challenges them to a game of soccer/football to win their valley back. Completely outmatched,
Dug's group has no equipment, no training, no experience and doesn't even know the rules, but his chutzpah gets the attention of a local girl,
Goona (voiced by Game of Thrones' Maizie Williams) from the Bronze kingdom who coaches Dug's tribe in exchange for a spot on the team.
Nick Par, the creator, even lends a hand — or voice — for the emotive and communicative grunts and snorts of Dug's intelligent pig,
Hognob.
The story is a pretty formulaic case of underdog team goes up against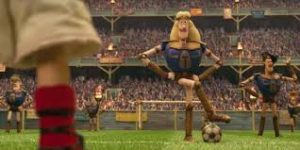 much better players with nothing but a good cause, lots of heart, and a ringer. We've seen the like in everything from The Karate Kid (karate) to Facing the Giants (American football) to Bad News Bears (baseball) to Mystery Alaska (hockey) and Balls of Fury (ping pong), and it works — every — time because, as Patton put it so well – "Americans love a winner" and
everyone loves the underdog because in them we all find inspiration.
But this time it's played for laughs, parodying the sport, the genre,
diva professional players, sports announcers, a "win one for the Gipper" moment,
a hen pecked husband, you name it.
It's a clean, gentle, lovable movie that kids will enjoy for the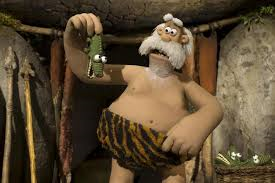 claymation/plasticine animation and adults will appreciate for the pokes at the cliches.
While there is a good deal of spoofing and teasing, there's not a mean spot in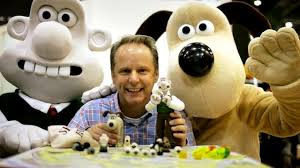 Nick Park's entire imaginative brain.
The cast list is like an old home week of favorite kids' characters, especially from the Harry Potter franchise. So when you take your kids you can happily point out that
Eddie Redmayne is both
Dug and
Newt Scamander.
Timothy Spall, who voiced
Chief Bobnar also moonlighted as
Peter Pettigrew.
Mark Williams, who does the voice for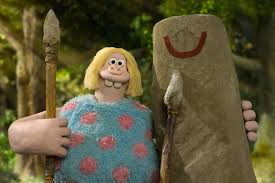 Barry, was also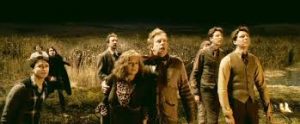 Mr. Weasley.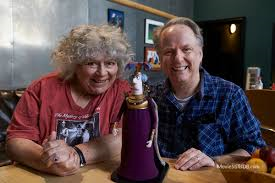 Miriam Margolyes, who voices Queen Oofeefa was also
Professor Sprout. And
Tom Hiddleson is
Lord Nooth and
Loki!
I'll let you figure out how to explain
Maisie Williams' stint in Game of Thrones.
But, if it helps, she was also in a handful of Dr. Whos.
Early Man is available on Amazon now. So go watch this cute movie that will be delightful to kids, footballers, adults, fans of Wallace and Gromit, Harry Potter afficianados, pig farmers, rabbits, cavemen ………………